** GIPFEL - German Shepherd Dogs **
Gipfel History
A/CH:GIPFEL DEVIL'S ADVOCATE[A][H]
"Cato"
Glenawly Jethro Tull[iid.U.K] X Wiesenland Dynasty[A]
"Cato" was my late wife's protector and friend for many years, and a great ambassador for the breed, and features strongly behind all of the current show team.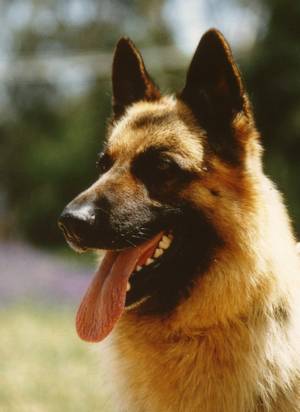 ~~~~~~~~~~~~~~~~~~~~~~~~~~~~~~~~~~~~~~~~~~~~~~~~~~~~~
With my late wife Dianne [ WIESENLAND ], we bred and owned multiple
Breed Champions, Excellent Graded, Obedience and Tracking titled dogs.
~~~~~~~~~~~~~~~~~~~~~~~~~~~~~~~~~~~~~~~~~~~~~~~~~~~~~
My first registered G.S.D's. came into my life from my late wife..two "Sable Ladies"
"Follie & Misty".
Wiesenland Ice Follie [A] C.D. & Wiesenland Ice Fantasy.
Kingsmen's Captain Fantastic [Imp.U.K.] X Lyndarra Ice Maiden [A]
"Follie" had the boast of a "perfect hip score" 0:0
Previously I had a rescue "sheppie".
I had always lived with Gundogs/Hounds during my youth.
Obedience was my first joy, and that went into breeding in 1986, with my first litter being from
Wiesenland Dynasty[A] to Britstar Jamacian Rum[A], this litter was bred as a "breeder's litter" under the Wiesenland Prefix.
When Dianne and I married in 1989, we both decided that we would keep and maintain our individual Canine Membership and Prefixes, as so much had gone into Dianne's "Wiesenland" bloodlines, and this was a way to develop them further.
Living in the clean air, and in the "shadow" of the Snow Fields, we quietly bred and showed a successful team of dogs, that have been chosen for compatible bloodlines, not just the show records they may have.
You WILL NOT see me at every show around, I believe that variety is the spice of life, and my dogs deserve a break from the Dog Show scene, as do I.
Contact Details
Anthony [Tony] Scarcella
Wangaratta, VIC, Australia
Phone : 0418 540 466
Email :

[email protected]
All Content Copyright
Dogz Online - Dogs, Breeders, Puppies